from
April 17, 2019
to April 18, 2019
Published on May 26, 2021
–
Updated on February 8, 2022
University for Artists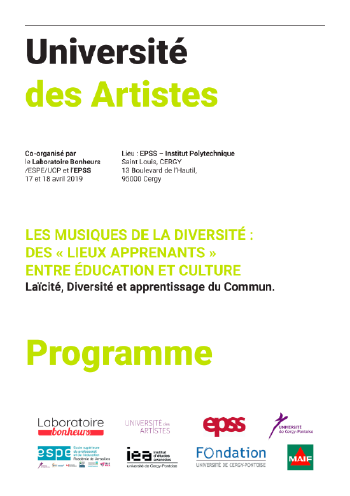 Co-organised by the Bonheurs laboratory / ESPE / UCP / EPSS
Venue: EPSS - Institut Polytechnique
The laboratory BONHEURS will organize on 17 and 18 April 2019, the second edition of the University for Artists. This scientific event, organized in partnership with the Observatoire de laïcité, will pay particular attention to the modes of socialization of adolescents in their relation to current music (Rap, Afro-Trap, etc.) as well as the situations of citizenship education for adolescents, in school and extracurricular contexts.
Two main lines of thought will be discussed during this event:
Axis 1) Secularism and citizenship education of students.
Axis 2) The "learning" potential of music of diversity.
This scientific event is aimed at researchers in the humanities and social sciences, professionals and volunteers in charge of education and training issues, as well as artists.
In addition, this scientific event represents a time of training open to all professors of the 1st and 2nd of the Academy of Versailles. This event is part of the academic training plan (PAF) of teachers, who are thus called to train on issues of secularism, socialization, citizenship, and pedagogy. Round tables, conferences and workshops will be organized during these two days of colloquium. And artists will be invited to discuss with the participants of the symposium on the potential "learner" and the possible impact of their music on the social behavior of young people.