from
June 20, 2019
to June 21, 2019
Published on May 26, 2021
–
Updated on February 8, 2022
Politics of Happiness?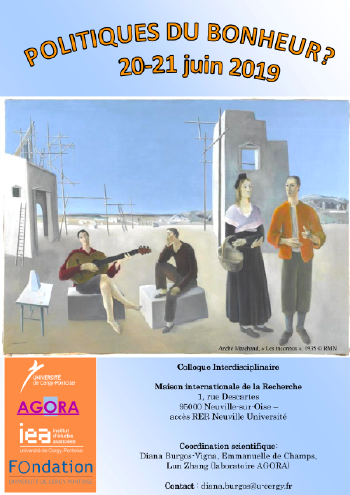 Venue: Maison Internationale de la Recherche, Neuville-sur-Oise
Organised by the « Politics » section of research group AGORA, this conference questions the possibility and desirability of defining happiness or well-being as the horizon of politics. It critically examines this trend in Western political thought from the end of the eighteenth century to today. The conference intersects only partly with the field of 'happiness studies', which proposes a synthesis between philosophical approaches of the good life and the empirical study of subjective modalities of well-being (based on psychology, anthropology and economics). Rather, the purpose of the conference is to question purely functionalist approaches and to give political issues centre stage. Issues rightly raised by 'happiness studies' will thus be critically examined, first by locating them in the broader movement of the history of ideas, and secondly by examining how they shaped or are shaping public policy in various national and cultural contexts, from Latin America to Europe and China.