Publié le 3 mai 2021
–
Mis à jour le 3 mai 2021
Guest Lecture : Pierre Purseigle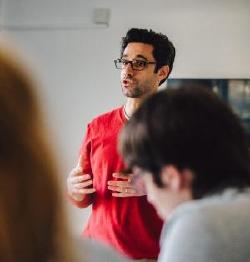 The First World War as Urban Catastrophe
Pierre Purseigle, professeur en histoire contemporaine européenne à l'Université de Warwick, est actuellement chercheur invité à CY AS, invité du laboratoire AGORA
The invasion of Belgium by the German army in August 1914 brought industrial warfare to the urban heart of Europe. Marching through its densest and most urbanized country, the German forces turned towns and cities into battlefields. Liège, Namur, Leuven, Charleroi, Mons, Antwerp, and then Ypres: for most contemporaries in Western Europe and beyond, the names of these cities punctuated the unfolding story of the conflict. The shocking devastation visited upon the cities of Europe by industrial warfare, the particular form of urban victimisation it brought about, is perhaps enough to consider the First World War as an urban catastrophe. One could also argue that this was a war made in cities, less in Sarajevo perhaps, than in Vienna, Berlin, Paris, St Petersburg, and London, where policy-makers led their country into the conflagration. Provincial towns, port cities, and colonial urban outposts were also critical sites of military, economic, and social mobilization. By 1914, towns and cities had, like warfare itself, been transformed by the process of modernization that characterized the long nineteenth-century. During the conflict, urban communities were, as Zygmunt Bauman noted of contemporary cities, "the battleground on which global powers and stubbornly local meanings and identities [met]" (Bauman 2007, 81). The wartime experience of urban populations was indeed shaped by the interaction of global and local dynamics that determined critical aspects of the conflict, such as the mobilization of military and civilian manpower for instance. It remains nonetheless difficult to find the appropriate way to articulate and integrate the urban experience of the conflict and its transnational and global history. The emerging field of global urban history offers a number of relevant and stimulating tools and concepts which may be productively used to reframe the history of the First World War. They allow us to illuminate the nature of the conflict and to question, specifically, its global character. It also invites us to reconsider the relationship between urbanisation, warfare, and globalisation.
Télécharger son CV sur sa page Warwick
Date: Jeudi 6 février 2020 de 12h30 à 14h00
Lieu: Maison internationale de la recherche, Neuville-sur-Oise.