Published on May 23, 2021
–
Updated on February 21, 2022
Forensics: sciences and investigation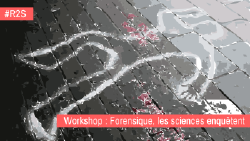 08/10/2018
Workshop on "Risks, Society and Security" (R2S) thematic cycle
08.10.2018
This workshop will review the know-how in different disciplines of forensic science dedicated to investigation techniques. A joint high-level meeting on the research/society collaboration for innovation, dealing with law enforcement investigations is to be held on October 8.
Date: October 8, 2018 from 7:30 am to 6:30 pm
Venue: Judicial Centre of the National Gendarmerie - Pontoise
Public: teachers, researchers, doctoral students
Free access with required registration
At the University of Cergy-Pontoise (UCP), security is one of the priority topics for the transfer of knowledge and know-how resulting from its research towards society. An emerging innovative science, Forensics addressing a general methodological approach to investigation techniques, deals with a large number of disciplines. At the UCP, social sciences, digital sciences, chemistry, physics, instrumentation and life sciences have been working for several years on forensics. In this perspective, a solid partnership has been established with the Pôle Judiciaire de la Gendarmerie Nationale (PJGN - Criminal Investigation Department of the Gendarmerie Nationale) in Pontoise. The R2S thematic cycle, which has run for two years, is one of the tools that has fostered transdisciplinary links and exchanges on this issue.
Thisworkshop is an opportunity to extend this interaction with the PJGN and to strengthen the links with the School of Criminal Sciences in Lausanne (ESC) being co-organizer with UCP.
Participants from various disciplines will provide insight on how they contribute to forensics and enable innovation in investigation techniques..
Register for the workshop

Agenda
7h30 - 8h: Coffee
8h - 8h10: Welcome address by General Patrick Touron
8h10 - 8h30: Opening of the workshop
François Germinet, UCP President, Olivier Ribaux, ESC Director, and Olivier Romain, UCP Vice-President for Technology Transfer and Corporate Partnerships
8h30 - 10h00: Human and social sciences dealing with security
- Prof. Julien Longhi, member of AGORA laboratory: 'Forensic linguistics: take stock of current projects and perspectives'.
- Prof. Quentin Rossy, ESC : 'Relations between criminology and forensic science, forensic intelligence, analysis of serial delinquency and its developments on the Internet'
- Prof. Daniel Ventre, member of the CESDIP laboratory and GERN: 'Presentation on cybersecurity'.
- Dr Marie-Laure Brunel-Dupin, PJGN: 'Behavioural sciences at the service of truth: the hearing session'

10h - 10h30: Coffee break / networking - posters

10h30 - 12h30: Digital traces and information processing
- Prof. Aymeric Histace, ETIS laboratory: 'Automatic labelling for the exploration of collections of criminal interest'
- Prof. Olivier Delémont: 'General forensic science, case-based reasoning in forensic science, picture as a trace, crime scene and forensic approaches to fire'.
- Amine Khelif, ETIS laboratory: 'Man in the middle'
- Prof. David-Olivier Jaquet-Chiffelle: 'Digital trace in forensic science, identities in the information environment, identification and authentication mechanisms, cryptology'
- François Bouchaud, 'Forensic IOT: Identification and classification of evidence in criminal investigations'
- Focus on the European Shuttle led by the PJGN

12h30 - 14h: Lunch at the PJGN Mess

14h - 16h30: Chemical traces and instrumentation
- Prof. Céline Weyermann, ESC: 'Reasoning on time in forensic science and methods of chemical forensics used in a wide range of forensic problems (environmental issues, gunshot residue, documents, etc.)'
- Prof. Nicolas Wilkie-Chancellier, SATIE laboratory: 'Presentation of the PostMortem project: Estimation of the post-mortem delay by ultrasound methods'.
- Prof. Pierre Esseiva, ESC: 'Drug trafficking and forensic analysis. Data processing and chemometrics'
- Dr. Nathalie Kummer, ESC: 'High resolution methods in chemical forensics moving towards "omics" approaches'
- Dr. Vincent Cuzuel, PJGN: 'The Bayesian approach to the interpretation of chemical traces in olfactory impressions'

16h30 - 17h: Coffee break
17h - 18h: Synthesis and round table
18h - 18h30:Closing address by Olivier Romain