Published on May 23, 2021
–
Updated on February 8, 2022
Epistemologies and Methodologies [in Law] from Postcolonial Perspectives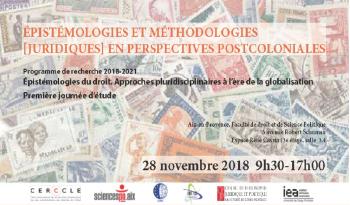 Conference organised par the center of research CPJP, the 28th November, 2018 at Aix-en-Provence
Coordinators: C. M. Herrera (CPJP - UCP), A. Geslin (IEP - Aix-en-Provence) et M. C. Ponthoreau (Université de Bordeaux)
Postcolonial studies have in recent years largely irrigated the various disciplines of the human and social sciences. If the law does not remain totally foreign to this evolution, it is nevertheless necessary to note that, in France at least, this did not lead to re-examine in depth the epistemologies and methodologies used.
The purpose of this conference is to propose another vision, inviting researchers from non-legal disciplines and already engaged in a postcolonial approach to their research subjects. Thus, the postcolonial dimension will be doubled by an essential multidisciplinary approach: will be involved philosophers, historians, geographers, alongside lawyers specialized in legal theory, constitutional law, public international law and history of law.
The goal is for the jurists, with the contribution of the other disciplines, to think about how research in law could seriously integrate the field of postcolonial studies.
To include reflection in this twofold perspective - postcolonial and multidisciplinary - implies taking into consideration, at least as a starting point, a number of assumptions that are not widely shared in the traditional conception of legal research, among which : epistemological and methodological pluralism, a break with methodological nationalism, the dilution of the distinction between internal and external approaches to legal knowledge, a relativisation of the separation of expert knowledge and secular knowledge of law.